SMB Jack To SMB Jack (Bulkhead) Adaptor
P/N: SMB1-5011
Female to Female Adapter.
Plating: Gold
Impedance
Tag : SMB, Adapter,
SMB connectors with 50 ohm impedance are for applications from DC to 4 GHz. The SMB snap-on mechanism provides a fast and reliable connection for applications with high packing density.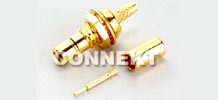 BNC connectors are the most popular RF connectors, featuring a two stud bayonet coupling mechanism which is particularly useful for frequently coupled and uncoupled RF connector with frequencies up to 4 GHz.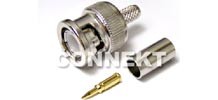 F connector is a type of RF connector commonly used for cable and satellite television universally. It is a low cost connector with good performance at high frequencies.